The time has come for you to plan your future!
If anything were to happen to you, having life insurance is a way of protecting your family. The options for life insurance vary depending on your possibilities and your lifestyle.
Don't wait another day.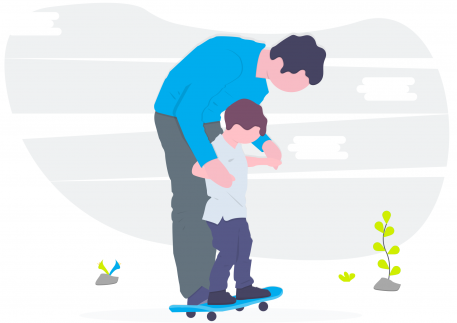 Provide your contact details so one of our agents can get in touch with you
Discover which policy is the best for you according to your needs.
What type of life insurance is the right fit for you?
This life insurance will help you:
Manage your debts

Maintain my family's standard of living

Cover funeral expenses

Have accessible life insurance premiums

Get a policy without medical exams
This life insurance will help you:
Create an investment source

Build up cash value

Allocate alternative beneficiaries

Have an active policy throughout your life
Frequently asked questions
Life Insurance: What is it and how does it work?
What are the most common types of life insurance?
How much is your life worth?
How much Life Insurance do you need?
How to choose your beneficiaries?
Unexpected medical expenses during retirement: How can I protect myself?
Protect your family, they're the most important!
HolaInsurance is a leading broker agency connecting consumers with our licensed insurance agents, for the purposes of facilitating purchasing of an insurance policy with our partner carriers, within the states that we are licensed and able to do business. We do not provide any insurance directly. Not all insurance providers can provide quotes. Rates and fees may vary dependent on your individual needs and state in which you reside. You agree and understand that you are not required to directly or indirectly accept the terms and conditions herein as a condition of purchasing any property, goods, or services from us, our agents, representatives, affiliates, or anyone acting on our behalf.
Notwithstanding any current or prior election to opt in or opt out of receiving telemarketing calls or SMS messages (including text messages) from us, our agents, representatives, affiliates, or anyone calling on our behalf, you expressly consent to be contacted by us, our agents, representatives, affiliates, 3rd party partners or anyone calling on our behalf for any and all purposes arising out of or relating to your insurance policy inquiry or existing policy with our carrier partners, at any telephone number, or physical or electronic address you provide or at which you may be reached.
You agree we may contact you in any way, through SMS messages (including text messages, direct messages via social media platforms (Facebook, WhatsApp, Twitter, Instagram), calls using prerecorded messages or artificial voice, and calls and messages delivered using auto telephone dialing system or an automatic texting system. Automated messages may be played when the telephone is answered, whether by you or someone else. In the event that an agent or representative calls, he or she may also leave a message on your answering machine, voice mail, or send one via text. You consent to receive SMS messages (including text messages), calls and messages (including prerecorded and artificial voice and autodialed) from us, our agents, representatives, affiliates, 3rd party partners or anyone calling on our behalf at the specific number(s) you have provided to us, or numbers we can reasonably associate with your account (through caller ID capture or other means), with information or questions about your application and/or account. You certify, warrant and represent that the telephone numbers that you have provided to us are your contact numbers. You represent that you are permitted to receive calls at each of the telephone numbers you have provided to us. Your cellular or mobile telephone provider will charge you according to the type of plan you carry. You also agree that we may contact you by e-mail, using any email address you have provided to us or that you provide to us in the future. We may listen to and/or record phone calls between you and our representatives without notice to you as permitted by applicable law. For example, we listen to and record calls for quality monitoring purposes.